Once upon a time, you had to hire a developer to build email templates. Thanks to the evolution of no-code tools, anyone who wants to create responsive emails can become a citizen developer.
No-code email platforms empower you to customize templates through a user-friendly interface compatible with most email service providers (ESPs). This could be drag-and-drop, WYSIWYG, or click-and-choose —the important factor is that it requires no HTML knowledge. None.
If you want to send emails that provide a website-like experience and never want to look at a line of coding, this guide's for you.
Table of contents
What are no-code tools?
No-code tools allow anyone with no technical knowledge to create emails and automate journeys using a visual interface. According to Zapier's report,
During Covid, 82% of users began using no-code tools.

90% of organizations believe they've grown faster due to their use of no-code.
Although developers can write their own code, more than one-third of no-code users are developers. Why? Because it frees up their time to focus on more sophisticated programming activities. Moreover, no-code enables them to prototype solutions quickly and make changes after deployment.
Related guide: What Is Email Automation and How It Helps Scale Your Marketing Efforts
Maximize your email performance with our free ebook
Optimize the right email metrics for higher ROI
Is no-code the new normal?
No-code tools democratize software development by helping you build emails from the ground up without learning a programming language. Most tools also support email automation, enabling businesses to save time. And what's more valuable than the time saved? Money saved. No-code is important for businesses that can't afford to invest in large IT teams. That is the #NoCode movement's strength, hence people claim that it's the new norm.
For instance, you can use apps like Mailmodo, a codeless email builder, to send hyper-personalized emails and automate repetitive workflows.
You may need some help with getting the aesthetics right, but all email builders come with built-in templates that make the process much easier. The cherry on top? If you require additional functionality, simply integrate your CRM or other extensions. You can even seek help from no-code communities online if you're feeling stuck.
Related guide: 5 Best Transactional Email Software of 2022 [+ Features & Pricing]
12 best no-code email builders
Here's a detailed comparison of 12 email template builders that are the rage in the current market. Find out how they stack up against each other.
"Send interactive emails. Win user delight."
Design customer journey maps, AMP, and HTML emails with a drag-and-drop WYSIWYG editor while personalizing the content for each user.

Add multi-step or single-step forms, surveys, coupons, quizzes, spin the wheel, scratch the card, shopping cart, calculator, and calendar widgets to our email templates without coding, letting users take action inside the email to convert them fast.

Insert dynamic content in your emails in the form of live poll results, countdown timers, real-time inventory, account dashboards, and sports scores to reinvent your email campaigns.
Pricing: Silver $99/mo (40,000 contacts), Gold $249/mo (100,000 contacts), Platinum $599/mo (300,000 contacts)
Best suited for: SaaS, eCommerce, B2C, Marketplace, Real estate, BFSI, Education, Recruitment, Newsletters
G2 rating: 4.6/5
Pixl saw better KPIs across the funnel with Mailmodo. These KPIs sustained as we increase our email volume and contact volume on the platform. – Saloni Rohatgi
Related guide: Make Emails Interactive With These 14 AMP Email Components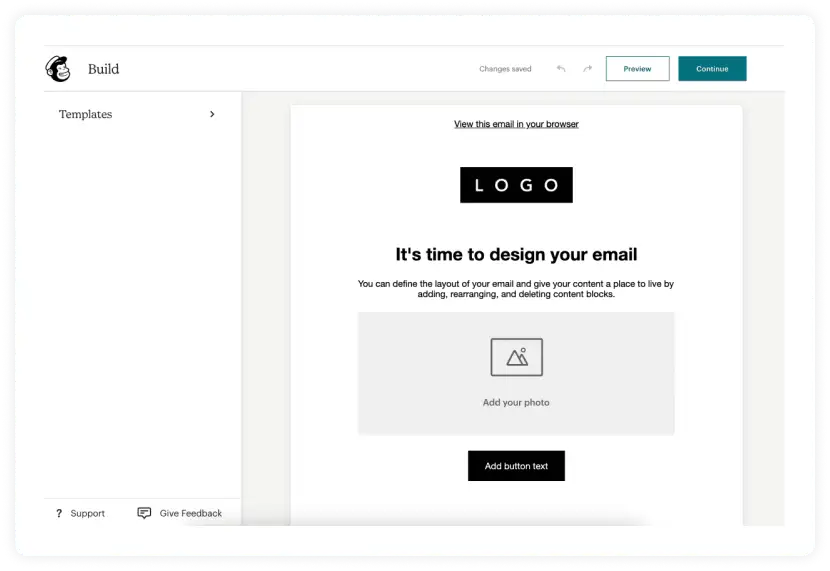 "Grow your audience and your revenue."
Get over 100 pre-designed email templates to work with, making it convenient to pick the right build as per your needs. You can even stack the modules together to create a template structure from scratch or export templates.

Add and edit your text, links, and images using an intuitive and powerful email editor.

Collaborate and communicate with other users in real-time within the email editor.
Pricing: Free (2000 contacts and 10K emails with ads), Essential $11/mo (500 contacts and 500K emails), Standard $17/mo (advanced automations), Premium $299/mo (10,000 contacts)
Best suited for: Startups, eCommerce, B2C, B2B, Marketplace, Food, Beverages, Newsletters
G2 rating: 4.3/5
3. Mailjet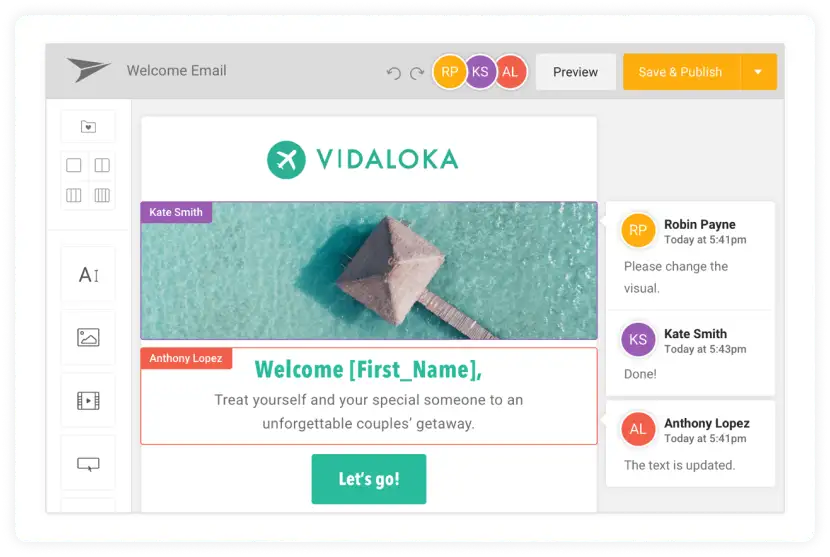 "All of your email needs in one reliable platform."
Collaborate with your team in real-time by exchanging comments in Mailjet's email builder, thus accelerating decision making and simplifying teamwork.

You can design your message by simply dragging and dropping text or image blocks, adding links, social media sharing buttons, and even customizing features.

Regardless of the recipient's email client, the rendering engine employed by Mailjet's no-code editor ensures that your emails are shown correctly on a computer, smartphone, or tablet. You can also check how your message is displayed.
Pricing: Free (6,000 emails/month), Essential $35/mo (50,000 emails), Premium $425/mo (500,000 emails), Custom (upon request)
Best suited for: App, Banking, Dating, Education, Media, Non Profit, Retail, SaaS, Tourism
G2 rating: 3.9/5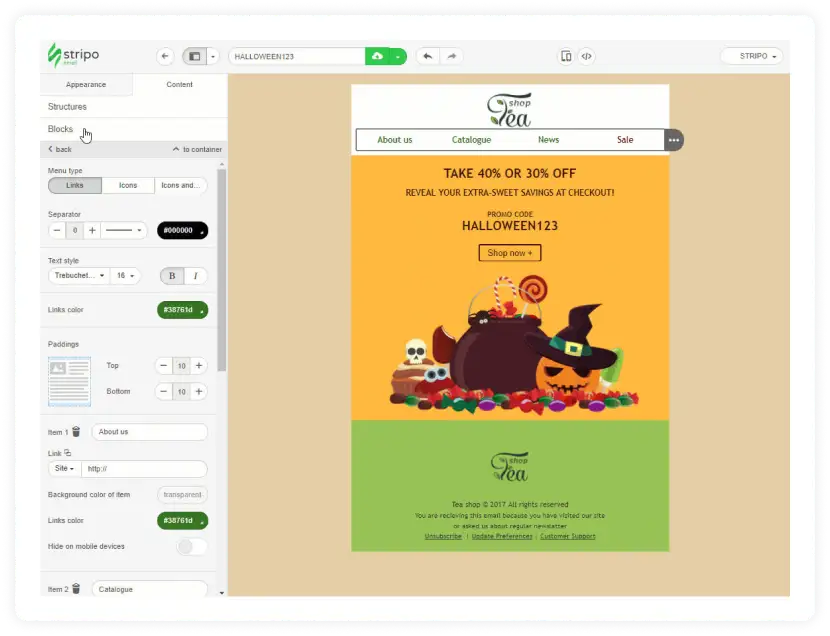 "Create professional and responsive emails fast with no HTML skills."
You just need to design and customize the product card template once; after that, all you have to do is enter the link to the product page into your email. Stripo's system gathers the relevant data and adds it to your email.

Create a content module, save it to your personal Module Storage, and then drag it into your email template to create your next campaign/campaigns without having to start from scratch.

You can resize photos, apply some filters, and put stickers on them directly in the no code editor.
Pricing: Free (5 emails daily), Basic $15/mo (50 emails daily), Medium $45/mo (100 emails daily), Pro $95/mo (300 emails daily), Prime (price upon request)
Best suited for: Airline, Auto and Moto, Beauty and Personal Care, Beverages, Construction, B2B and B2C Businesses
G2 rating: 4.6/5
5. Unlayer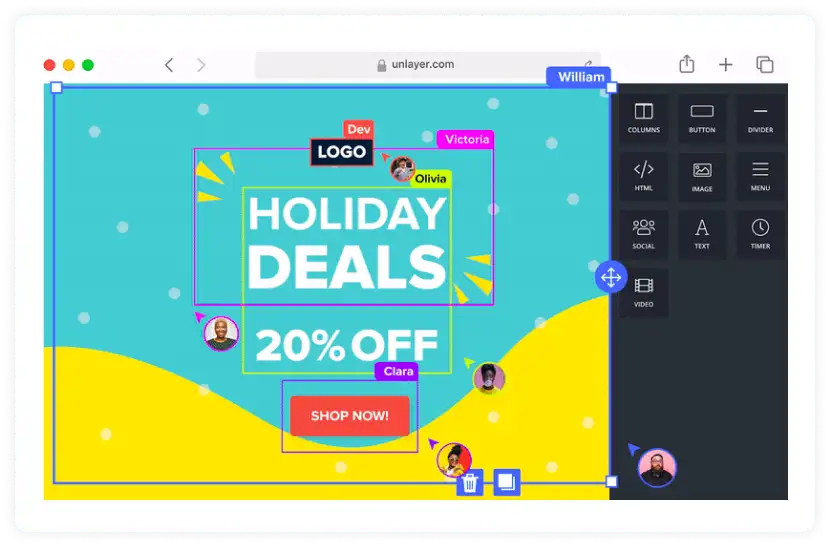 "Build beautiful, responsive designs quickly and easily."
Drag and drop products from your online store into your emails.

A plug-and-play email editor that saves time and money during development.

Users can dynamically add content to their emails using merge tags. They can be inserted into a block of text by clicking on the Personalize button in the text editor toolbar.
Pricing: Free trial, Premium (price upon request)
Best suited for: Tourism, B2B and B2C Businesses, Web3, Non Profit, Restaurant
G2 rating: 4.1/5
6. Dyspatch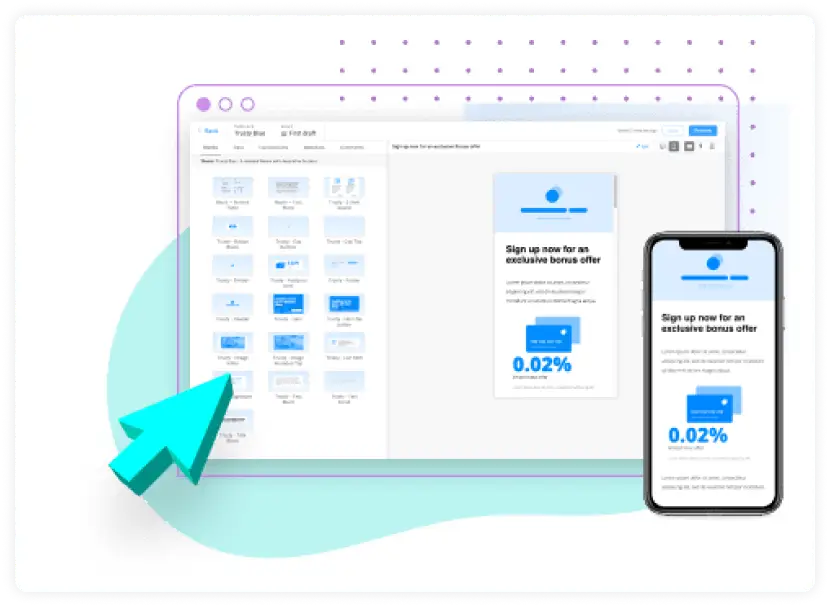 "Non-technical users can create emails at lightning speed, without sacrificing quality."
You can reclaim engineering resources that were previously dedicated to coding and email troubleshooting. The Dyspatch Markup Language ensures that templates are responsive and cross-platform compatible.

Set block permissions to make components like logos, footers, and social links non-editable so you can keep your brand image consistent.

Create content blocks once and reuse them in multiple templates with Dyspatch's drag-and-drop email builder.
Pricing: Free trial, Starter $149/mo (1 user), Teams $499/mo (5 users), Teams+ (price upon request)
Best suited for: SaaS, Tech, Rental, Healthcare and Wellness, Marketplace, Travel
G2 rating: 4.1/5
7. Beefree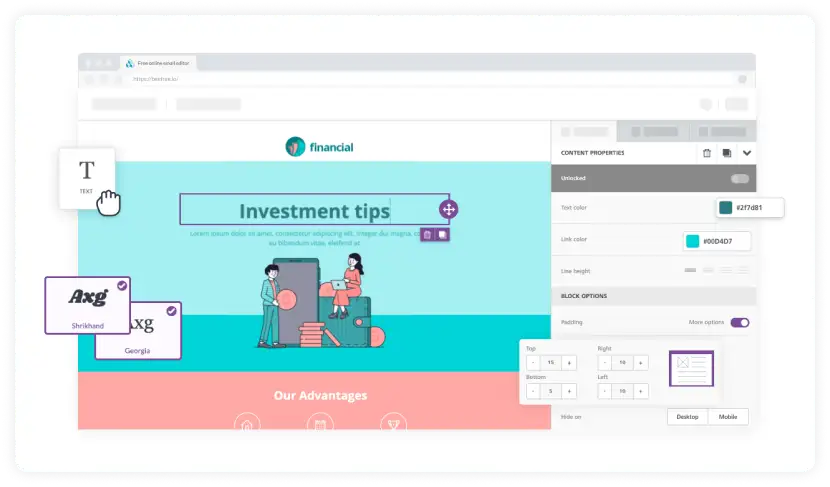 "A quick, collaborative, friendly design suite to create emails."
Design everything in one location, from newsletters to transactional emails, so it's all in one place, organized, under control, and ready to go.

While designing, you can leave feedback and edit together in real time. Versions can be tracked and restored as well.

Allow users to apply conditional statements to content sections, helping them in creating or selecting the appropriate display conditions.
Pricing: Free $0 (10 emails/month), Team $30/mo (unlimited emails), Enterprise (price upon request for advanced user management and premium support)
Best suited for: Schools and Universities, Non Profit, Marketing Automation Platforms
G2 rating: 4.7/5
8. Topol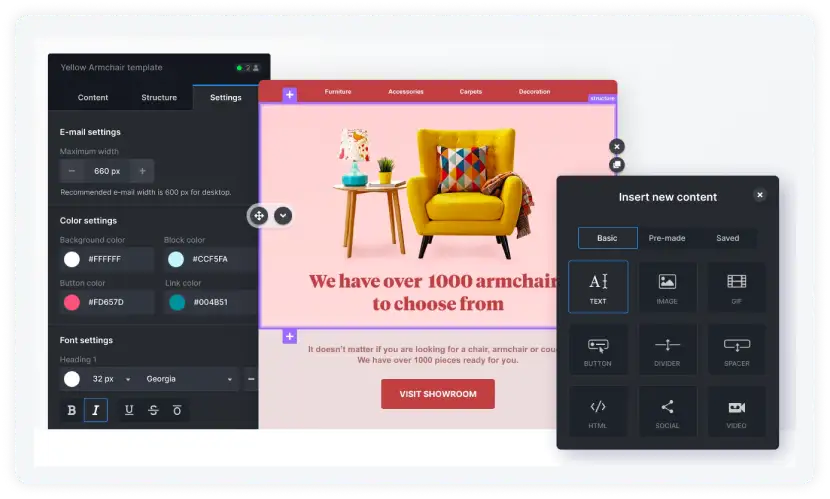 "Save time on creating your emails."
Images can be edited directly in the template editor. Pexels' photo library has a lot of high-quality, royalty-free images that you can use directly with the Topol plugin. You can also add filters, icons and stickers, and do advanced color corrections.

Create as many pre-defined, custom, or product content blocks as you like.

Pre-define your users' most-used blocks, such as product, headers, and footers blocks, so they don't have to rebuild them over and over.
Pricing: Free (for personal use), Pro (for a team, available upon request)
Best suited for: Beverages, Lifestyle, SaaS, B2B and B2C Businesses
G2 rating: 4.7/5
9. Designmodo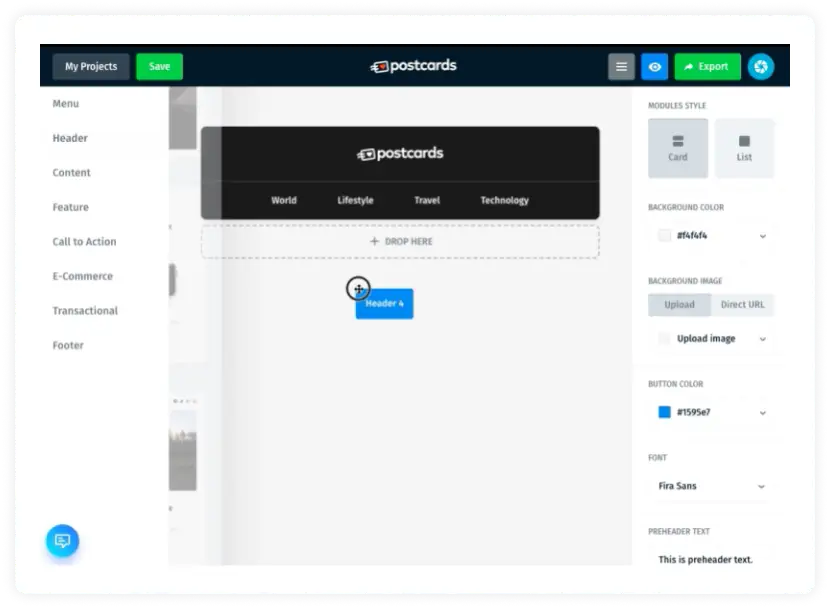 "An intuitive email builder for teams and individuals that amps up your email marketing ideas."
You can stack, edit, and rearrange pre-designed creative options using Designmodo's feature-rich drag and drop builder.

Maintaining a version history for your projects helps you stay agile.

Choose from over 900 Google Fonts to compliment your design.
Pricing: Free trial (14 days), Start $19/mo (14 days of free backup), Advanced $49/mo (30 days of free backup), Enterprise $99/mo (unlimited backup)
Best suited for: Newsletters, Publications, Media, Mass Communication, SaaS, B2B
G2 rating: 4.2/5
10. Sidemail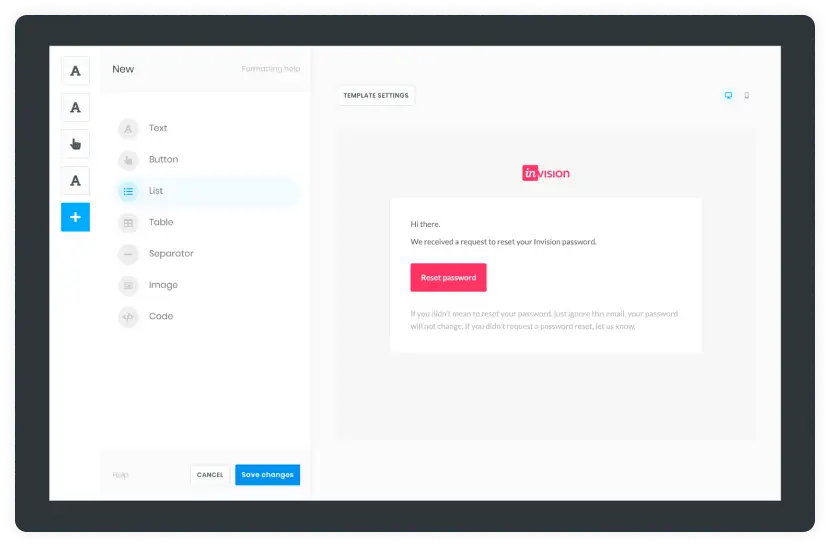 "You get to focus on what you do best, while your whole email game is as simple as making a cup of coffee."
It supports dark mode. Simply upload two distinct icons for bright and dark themes.

Completely white-label—upload your logo and match your brand colors.

There is no unnecessary clutter; only the necessities are present: paragraphs, titles, links, buttons, lists, tables, photos, etc.
Pricing: Free trial (7 days), $14.25/mo (1000 emails), $24/mo (10,000 emails), $53.25/mo (40,000 emails), $82.5/mo (70,000 emails), $111.75/mo (100,000 emails), Customized (100,000+ emails)
Best suited for: SaaS, Newsletters, Marketing Automation, Startup, Non Profit
G2 rating: NA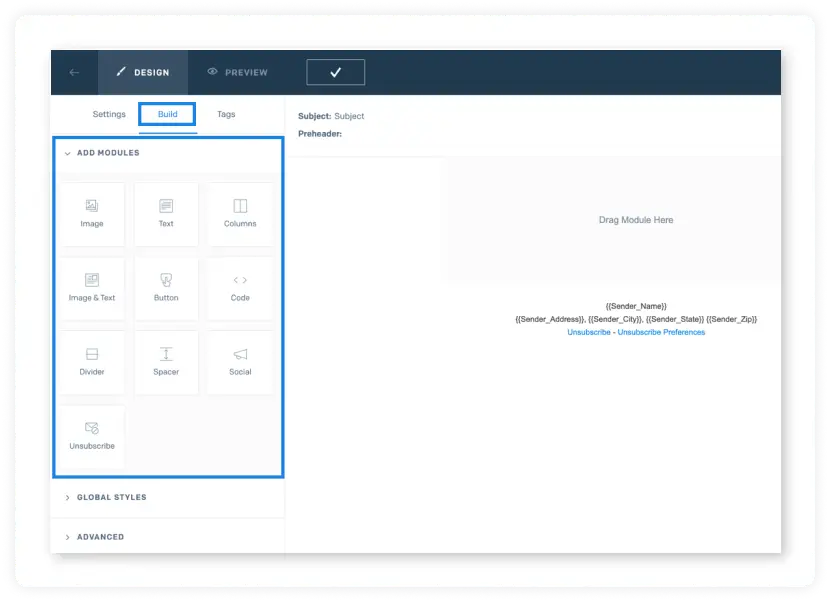 "Easily build beautiful, responsive emails that drive results."
Whether you like visual design, code, or a combination of both, take advantage of Sendgrid's choose-your-own-path editing opportunities.

With access to a variety of content module types, the Design Editor allows for simplified WYSIWYG campaign building.

To save time and give your campaigns a professional appearance, you can use responsive email designs.
Pricing: Free (100 emails daily), Essentials starts at $14.95/mo (40K-100K emails), Pro starts at $89.95/mo (100K-1500K), Premier (custom pricing)
Best suited for: Crypto, Marketplace, eCommerce, Finance, Music, App, Hotels and Resorts, Recruitment, Non Profit
G2 rating: 4/5
12. Chamaileon
"Drag and drop email builder for high demand."
An email editor for designers and marketers that want to create visually appealing emails. Send them using your preferred platform.

In a matter of minutes, you can create a professional and responsive email template.

In a single virtual workplace, you have total visibility into the email design process. Keep track of every campaign and avoid being caught off guard.
Pricing: Free trial, Standard $150/mo (5 integrations), Premium $250/mo (10 integrations), Enterprise (custom price)
Best suited for: Agencies, Education, SaaS
G2 rating: 4.3/5
Use Mailmodo to get started
Thank you @YourStoryCo for featuring us! https://t.co/GbLJJvWfaR

— Mailmodo (@mailmodo) July 2, 2021
One thing is certain: if you're thinking about creating code for a project, think about whether no-code could save you time and money.
Get a sample AMP email in your inbox
Experience the power of interactivity right now
Mailmodo is a good place to start if you're new to no-code. When you first use it, you'll discover how easy it is to develop automated email workflows that would previously have required the assistance of a coder - and what a relief that is!
Then, when you're ready, we'll reveal to you the world of AMP. Why are email marketers embracing it? Is it just a trend or is it here to stay? Learn all this and more by reading our guide on AMP for email.
What you should do next
Hey there, thanks for reading till the end. Here are 3 ways we can help you grow your business:
Talk to an email expert. Need someone to take your email marketing to the next level? Mailmodo's experts are here for you. Schedule a 30-minute email consultation. Don't worry, it's on the house. Book a meet here.

Send emails that bring higher conversions. Mailmodo is an ESP that helps you to create and send app-like interactive emails with forms, carts, calendars, games, and other widgets for higher conversions. Get started for free.

Get smarter with our email resources. Explore all our knowledge base here and learn about email marketing, marketing strategies, best practices, growth hacks, case studies, templates, and more. Access guides here.